Distance learning tips for how to use a daily Question of the Day using the Seesaw app with kindergarten and first grade students. Includes a Seesaw tutorial for adding daily attendance questions.
You worked hard to set up classroom routines, like Question of the Day, morning meeting, and daily read-aloud time. Then distance learning came along. You had to focus on classroom community in an entirely new way. And so many of your normal routines were thrown out the window! Some routines, such as a daily read-aloud, have been easier to transfer to distance learning with videos or video-conferences. But other routines have taken more time and creativity to implement. One of those routines might be Question of the Day. But never fear – this blog post will tell you exactly how to add a question of the day to the Seesaw app.
Here's a quick and easy Seesaw tutorial for adding a Question of the Day.
Create the Question
You can create your own daily questions right on the app or upload some pre-created questions. Here are some step-by-step tutorials for the novice (or for those who need a reminder).
First, click the green plus sign, and selected "Add assignment." 
Then select "Create New Activity" from your library.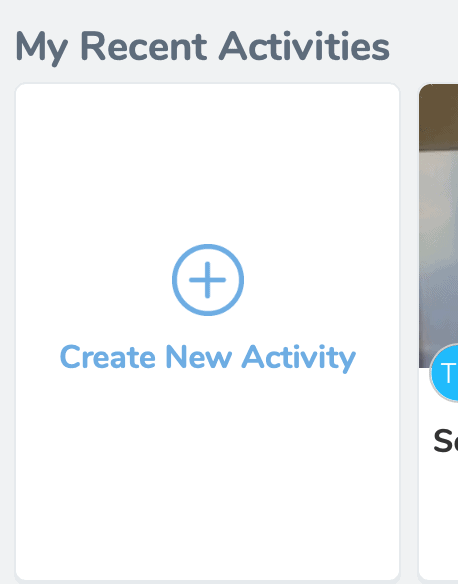 Next, give your assignment a title (such as "Question of the Day" or "Morning Question.") Then click "Add multimedia instructions or example" at the bottom of the page.
To create your question in Seesaw:
Select drawing.
Then click the text button on the left.
Type your question into the box that pops up. When you finish typing, you can enlarge your question. Click outside the box, then click and drag one of the dots that appears on the text box.
Use a Pre-Made Question
If you prefer, you can use a pre-created question. Here are the steps to do that.
From the multimedia instructions/example screen, choose "Upload." 
Then choose "Select from Computer" and select your file. You can upload a jpg, png or PDF. Once you select a file, you will see the green check mark. Click it when you are finished. (If you add a PDF, this step will be skipped because you can only add one PDF to an assignment.)
Selecting One Page from a Document
Do you want to add just one page from a longer document? If you have a longer PDF, you will need to select just one page to add. There are a few ways to accomplish this.
Print as a PDF
One way is to print the page as a PDF. This varies a bit from computer to computer (and may also vary based on your printer). But, typically it involves selecting "Print to PDF" within your print screen (sometimes from the printer choices, sometimes within the print dialogue box.) Tell the computer which page number you want to "print" (or save) as a PDF. This will create a single-page PDF to upload.
Take a Screenshot
The other method is to take a screen shot of the page. Again, the exact directions vary depending on your computer, but it is generally pretty simple to do. This will create an image that you can upload.
For instance, on a Mac, you select Command, Shift 4 to take an "photo" of part of the screen. On a Windows computer, the steps will depend on your operating system.
Using the Question of the Day on Seesaw
The final step in the Seesaw tutorial is sharing it with your class. In Seesaw they use the term "assign" for this task.
After you click the green check and save, you will return to a screen that has "Assign" in the upper right corner.
Click the assign button to share the question with your class. If you are preparing in advance, you can even schedule the assignment to be shared at a later date or time.
On the assigned day, students can respond to the question. To respond, students can write on the screen, circle a response, or record a voice response.
Your students will enjoy continuing this daily routine whether they are in the classroom or engaged in distance learning. Plus, if this is the way you are taking attendance during distance learning days, the consistent format makes it quick and easy for parents and students to find as they log in each day.
Tired of making your own questions? I have hundreds of pre-made questions in my store. Some sets are specific for beginning readers (using common high frequency words). Others are designed for conversation and are easy to upload on Seesaw. All of the question sets will save you time and free up energy to devote to other parts of distant learning.
Please follow and like us: